Larned and LaCrosse Lace Up Their Cleats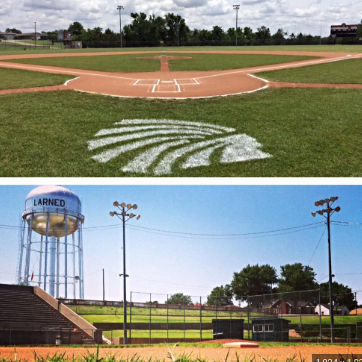 All the voices coalesce in a chorus of sound, until it all stops when you hear "Attention fans, In honor of our country please remove your caps for our national anthem." After the crowd's voices dim down and we all take a seat you. This is when you hear the umpire shout "Play ball." This season LHS is consolidating with Lacrosse High School to create the ultimate baseball/softball team. This year we have 17 softball players in total, including 3 players from LaCrosse. We also have 25 baseball players as a whole, along with 6 players from LaCrosse. The reason why LaCrosse is consolidating with Larned is because LaCrosse didn't have enough players for baseball and softball. Therefore, LaCrosse decided to join with Larned.
With more and new players added to both teams, athletes are able to learn how to achieve much more than what was in the past. When sports players work together they aren't just teammates but their family. They push each other to get better and improve upon their skills to take home a win. These athletes are able to learn even more teamwork skills since the new consolidation. No sports team is successful without working together to reach and strive for a common goal. Leading to the enhancement of many types of skills that these players can use in life. 
Improving game play is trying harder and improving the quality of what you are doing. This can be through some good competition with fellow players. Athletes will create good competition, while giving each other boosts to make a clear and set goal. Whether that may be on the field or in the box. No spot is ever secured and is always for the taking. It's just a matter of who wants to work for it the most. You can see this through how hard a player goes at practice and whether they treat practice like a game or not. As stated by softball coach Mrs. Haney "It would allow kids to actually become successful in where they need to play. (…) Kids are going to be more confident by getting more reps in and giving more opportunities to be successful." To improve game play you must have heart for it and have the will to be better. Continued by softball player Karly Lemuz "We can do a lot more scrimmages in practice to work more on game situations. (…) Knowing how to compete is important in this sport, I mean after all it is a game of errors. Overthinking one bad mistake can lead to another in everything you do in this sport."
The increased number of players on a team can substantially improve practices and games. Baseball coach Mr. Erway has expressed much about the improvement in practice. He stated, "The more players you have statistically it allows you to be more flexible. It really allows you to coach the way that you should coach to where kids don't get complacent. They have to come out and battle everyday, which leads to having a better ballgame. This creates more quality players." Having more players allows for growth in all athletes to achieve their goal, which would ultimately motivate them even more. Baseball player Carson Shaver has noted about competition in practice. He stated, "With adding more players to our team it gives other guys more of a break that they have to play more games and innings and we can do a lot more at practice. (…) Competition can do a lot for our players by getting more live reps and can help get us prepared for our games so it's a very big part of it."
In conclusion the joining forces of Larned and LaCrosse is very beneficial to both schools and all athletes. As already stated this consolidation is to enhance athletes skills (mentally and physically), improve game play, and increase the number of athletes going out for a sport. These are just some of the benefits of this new alliance. All we can do is watch these athletes come together and prove to not only our highschool and community but to themselves, that they are here to make themselves known as the new triumphant team made from two diligent schools. Let's watch this new collaboration make a new great difference for our town.
Leave a Comment
Your donation will support the student journalists of Larned High School. Your contribution will allow us to purchase equipment and cover our annual website hosting costs.