Fall sports programs celebrate successes and learn from losses as the 2022 season comes to an end
Fall sports have finally come to a close after their long and successful seasons. Larned High School girls' golf, girls' tennis, cross country, football, and volleyball all had some form of success this season. From going to state to simply improving the offense, all of our sports teams achieved something important this fall; therefore, they all deserve to be recognized!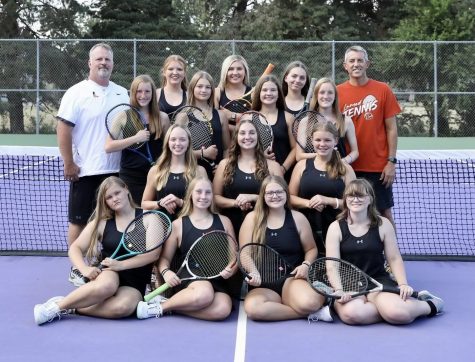 Starting off strong, Larned High School girls' tennis went to state this season. Three out of the four entries for Regional, qualified for state. Abby Holt was a regional champion in singles, and she's only a junior. Ella McNett took fifth place at Regional for her senior year in singles. With the way the doubles brackets played out, Sarah Manry and Reese Watkins had to play Arianna Hemken and Breanna Hemken, and only the winner made it to state. After playing for two-and-a-half hours, Arianna and Breanna won the match in a tiebreaker. Arianna and Breanna took fifth place at Regional and Sarah and Reese took seventh place. When we asked Head Coach Mark Lessard why he believes his team did so well this season, he told us, "All of the girls worked hard and pushed each other to improve. Most of the girls also practiced during the summer and it paid off!"
Girls' state tennis was held in Topeka, Kansas this year. Abby Holt took fourth at state in singles. She ended her season with 30 wins and only 6 losses. Ella McNett won one match and lost two at state, so she did not medal. She ended her senior season with 31 wins and 3 losses. Arianna and Breanna Hemken lost both of their matches after Arianna sprained her ankle, and they did not medal. They ended their season with 26 wins and 8 losses. Sarah Manry and Reese Watkins ended their season with 18 wins and 13 losses. In total this season, the team played 134 matches and they won 104 of them. Lessard analyzed that, "Out of the 17 meets the Varsity and Junior Varsity played, through Regional, we finished first or second in 15 of them!"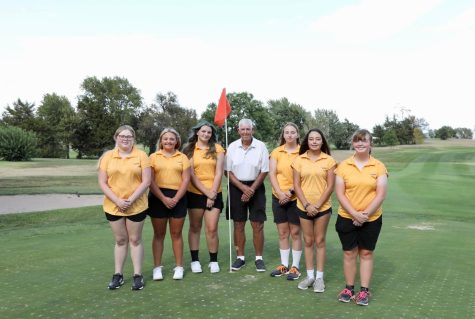 Larned's girls' golf team also had players that went to state this year. Jocelyn Clawson and Erin Tims both qualified for state after getting seventeenth and twelfth at Regionals. Alaura Crockett, senior, Jocelyn Clawson, junior, and Erin Tims, sophomore, all won medals consistently throughout their seasons. When we asked Head Coach Danny Collins why he thought his team did so well this season, he told us, "I believe in fundamentals, we worked hard on them this season and the players stayed coach-able and they took my advice and that's the reason we improved." Collins also mentioned that,"During the time that we practiced, we worked and we got better every single practice."
Girls' state golf was held in Hutchinson, Kansas this year. Jocelyn Clawson shot a 108 and didn't end up placing. Erin Tims also did not place after she shot a 123. They both fought hard all season long and it paid off for them in the end when they made it all the way to state. They did the best that they could at state, and we look forward to seeing what they will accomplish next year.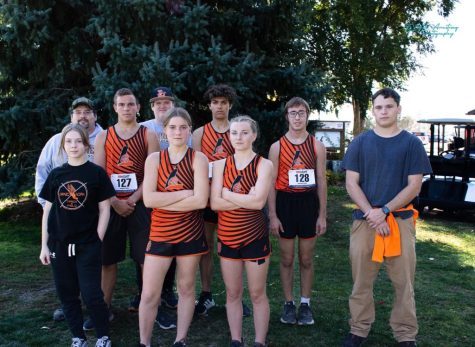 Cross country had brand new coaches this season. They had a brand new coaching staff consisting of Head Coach, Daniel Drimmel and Assistant Coach, Jordan Drimmel. As only a freshman, Caleb McDonald earned medals consistently this season on Junior Varsity. He also took second place at their League meet.  Landon Haney was top 10 at multiple meets for his sophomore season; he took ninth at League. David Lumpkins took 11th at League as a sophomore. Maverick Munden, a junior, ran on both Varsity and Junior Varsity throughout the season. Emma Corman, Ivy Hope, and Teagan Walker all ran on Junior Varsity. Teagan and Ivy pushed each other to be better all season long; both of them earned medals consistently throughout their sophomore seasons. Their excellent seasons really shone through at their League meet where Teagan took third place, Ivy took fourth place, and Emma took fifth place. They had a stunning season and we can't wait to see what all of them accomplish next year.
This year, the Indian football team went from a 3A to 2A category, so they played some smaller schools this season. Larned won 3 games this year and lost 6. Sadly, the team did lose several great football players due to injuries this season, which hurt their offense. We asked Head Coach Tad Remy why he thought this season went so well, despite all the injuries, and he told us, "We had a bunch of players step up. Carson having to play quarterback was tough. A lot of injuries made it to where we had to play a lot of freshmen that we wouldn't normally play; they were seeing field time that they usually didn't." Looking forward, it will pay off for those underclassmen when they become the true Varsity team in a couple years. 
Despite all the hardships faced this season, there were some amazing players that achieved some great things this season. Ty Smith, a junior, had 99 tackles this season. Eian Sanders tallied 3 total sacks for his senior season. After Riley Pontius got hurt, Carson Shaver stepped in as quarterback and scored 8 touchdowns for his sophomore season. Luke Fischer is a junior and one of the football captains this year; he got 578 rushing yards along with seven touchdowns for the Indians. Overall, the Indian football team did some incredible things this season, and we can't wait to see what they achieve next season.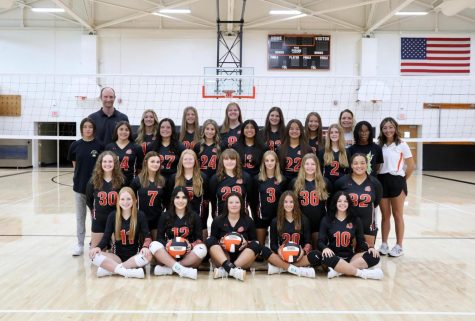 The LHS volleyball team had a tough season. They played some tough competition and ended their season with 2 wins. They had an entirely new coaching staff this year consisting of Head Coach, Kenzie Harper, Head Junior Varsity Coach, Luke Steinlage, and Varsity Assistant Coach and C Team Head Coach, Amy Simmons. They worked hard with their players and had some great improvement and statistics to show for it. Jaidyn Pinkston, junior, had 22 aces this season. Mackenzie Reinert tallied up 174 digs for her junior season. To top it off, Jayme Hagerman has 96 kills for her senior season. When we asked Head Coach Kenzie Harper how she felt her first season went, she told us, "I feel like we had a lot of growth. Since we had new coaches, there was a bit of a learning curve, but we did well despite it. There was also a lot of moving around for teams, which was hard on the girls, but they adjusted well." The Indian volleyball team achieved some wonderful stats this year and we can't wait to see all of their hard work and dedication pay off next season.
Special thanks to Janet Fleske for all of the excellent photos she took of our fall athletes! We appreciate having phenomenal photos of all of our athletes!
Leave a Comment
Your donation will support the student journalists of Larned High School. Your contribution will allow us to purchase equipment and cover our annual website hosting costs.
About the Contributor
Arianna Hemken
Arianna Hemken is a junior at Larned High School. Her favorite articles to write are opinion pieces, and she loves adding statistical numbers to her pieces...