The daunting task of being a middle schooler in Larned high school
Many high school students ponder whether it is wise to have middle school students walking the halls of the high school. I personally had these same thoughts and decided to seek out expert opinions from a few of Larned High School's most experienced teachers and administrators. Along the way, my eyes were opened to the many benefits middle schoolers reap from taking high school classes. 
Mr. Scheideman describes three benefits students gain as 1) An increased number of electives, 2) An opportunity to explore career clusters and Xello, and 3) Students have increased confidence as freshmen due to their previous exposure to the high school environment. He stated that some of the advantages are that "The students get to see the high school teachers so that when they transition to the high school level, those relationships and the anxiety and fear that they may have for their freshman year are at least lessened." To further explain these advantages, middle school students gain an extra six new elective classes when they attend class at the high school. Some of these electives include Spanish, exploratory agriculture, audio/video production, and more. These electives will help middle school students learn what electives they want to do during their high school years. Since high school is only four years, you only get to do so many electives. With middle school students coming to the high school, students can take electives they might be interested in and learn if they do or don't enjoy those types of classes. They can use their middle school elective time for these classes so they are not taking them during high school. 
Mr. Wilson further explained that USD 495 actually receives more money from the classes after the intro level. This means that students can take the high school level introduction classes during their middle school years, so when they get to high school they can take higher level classes, which gives the school more funding from the government. When asked about why middle school students started coming over to the high school, Mr. Wilson replied, "With middle schoolers taking those intro level CTE classes, it allows us to actually get a little bit more funding when they come to us as freshmen because they're not taking those first level classes that we don't get funding for. They're actually taking the second, third, and fourth level type classes."
When we asked Larned middle schooler Grant Watkins about his opinion on coming to the high school, he stated, "I like going over to the high school from the middle school because I get to know the high school better. I will know the basic layout of the school and won't be so lost." He also said, "I like seeing my sister. I'm a 7th grader, and I will never see my sister in high school, which really sucks, but I'm glad I get to see her now." 
While high school students might not be ecstatic about middle school students being in their school, the benefits prove that this was a great decision for middle school students, and their high school experience will now be greatly improved.
Leave a Comment
Your donation will support the student journalists of Larned High School. Your contribution will allow us to purchase equipment and cover our annual website hosting costs.
About the Contributor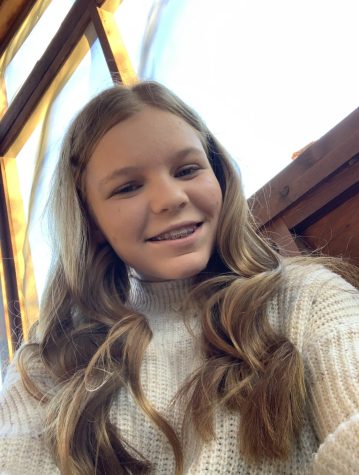 Cassie Manry, Editor
Cassie Manry is a freshman at Larned High School. She serves as an editor for the Larned Highschool Newspaper team. Cassie is also involved in FCA, FCCLA,...