Larned High School: Ultimate Fixer-Upper
Life in a small town sure has been interesting the last few weeks; Larned High School has become the topic of Facebook posts, newspaper articles, and coffee clubs due to the improvements being made to the district. With all of the negativity aimed at the district, it is important to recognize the positive improvements that have been made to the school. When asked about the changes at Larned High School, USD 495 School Board Member Charles Tabler stated, "I believe as a school board member, one of our major duties is to maintain and upgrade all of our physical facilities. That would include buildings, playing fields, playgrounds, and parking lots. In April of 2022, we held a series of meetings with the public to get input on what the master plan should be for upgradings facilities and the classrooms. The projects in place came as a result of those meetings."
While many students live most of their days focused on school work and due dates, it is easy to forget that new changes to the school have been made. These changes positively impact both the student's learning and the community. A highlight of these developments, which many now take for granted, is the wrestling room and Fitness Center. Students can obtain an annual pass to the fitness center for $25. While students under the age of 18 must have a parent present to work out, it is still great to have a community fitness center that is open to the public.
Other upcoming changes include new security cameras, new roofing, sports equipment being replaced, and athletic facility upgrades. Almost all students at Larned High School are aware of the safety issues that broken security cameras pose. These problems could be resolved by Larned having a better and more advanced security camera system. Luckily, after years of deliberation, Larned High School is getting new security cameras. On the subject of new security cameras, Mr. Wilson stated, "A lot of our cameras are outdated. . . I do know that the district is exploring and looking at purchasing and upgrading our camera system and also putting in some other security measures that come along with those." 
The roof of the high school has been a long-awaited issue that has become a real danger for students, specifically in the band room. The band room is only used one period per day, and it has been taking a big hit from the leaking roof. Paraprofessional Mrs. Millan spends her first period of the day assisting students in the band room. When asked about the condition of the band room, she stated "When the ceiling tiles get a certain amount of moisture in them they often break, crumble, and fall down in the band room." She also mentioned, "The fact that we have to have large trash cans, as well as a toddler-sized swimming pool to catch the amount of water that was coming down from the ceiling, has been absolutely appalling. I am glad that USD 495 was willing to invest in having this problem resolved once and for all." 
Other great upgrades to the high school include new windows; the school also added an attached walkway that attached the detached areas of the high school together. The detached classrooms forced students to go outside in order to get to specific rooms, such as the art room and welding shop of the high school. This exposed students to the elements and presented a security concern. Future upgrades include advancements to the track equipment. Mr. Upson stated, "Over the last couple of years, we have received new uniforms, rings for the shot put area, replacement spikes, shots, and discs, a hand-held sump pump to drain out the pole vault box, batons, new high jump and pole vault pits and standards, and stopwatches." When asked how the new equipment would affect the performance of the team, Mr. Upson replied, "It helps to make us competitive. It helps us get more students out for the sport. You have to look good and make kids feel important so that they want to join the program. Broken equipment does not perform as well as up-to-date equipment. It gives the students pride in their program and performance." 
If you're a student walking down the hallway or a community member in a coffee club, stop and consider the improvements that have been made. It is exciting to see that the district is balancing improvements to the physical school building with upgrades to the athletic programs. We will be excited to see more advancements to USD 495 schools in the future.
Leave a Comment
Your donation will support the student journalists of Larned High School. Your contribution will allow us to purchase equipment and cover our annual website hosting costs.
About the Contributor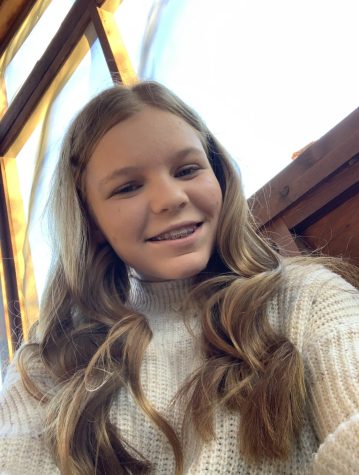 Cassie Manry, Editor
Cassie Manry is a freshman at Larned High School. She serves as an editor for the Larned Highschool Newspaper team. Cassie is also involved in FCA, FCCLA,...