Adiós, Mi Profesora Favorita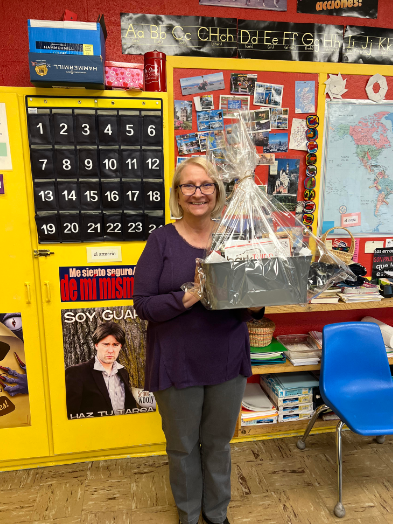 Señora Wilcox, our Spanish teacher at LHS, is concluding her teaching career this 2023 school year. Señora is the sophomore class sponsor, FCA sponsor, and International Club sponsor. She has been teaching at LHS for 24 years teaching, which is not including the many years that she substituted for as well. Señora Wilcox has been in this district teaching and substituting for 38 years, while originally being a history social science major who then rediscovered her love for Spanish from Mr. Flint, one of the past Principles of LHS. That's when she decided to go out to become a full-time Spanish teacher. 
As time goes on, many teachers discover new ways to help shape students to learn and grow. A great achievement that Señora believes she accomplished is enhancing the Spanish division in our district. Wilcox stated, "I believe I made a solid Spanish department, and I hope that it's true. I've had kids come back and say they learned many things that helped. Was it perfect, no; but my goal was to give it a firm foundation for the kids […]". Spanish class helps open the mind to new learning styles and is great for connecting with people. Having a good and enhancing Spanish class for students can help high schoolers grow and become great at connecting with new people.
Having patience and kindness is one of the many attributes a teacher needs for success. One of the most patient and kind-hearted teachers you'll ever meet is Señora Wilcox. All students adore Señora since she is a very good and dedicated teacher. She truly has a passion to teach and enhance the minds of young adults. One of Señora's many students, Reese Watkins, who believes Señora is a great influence to look up to. Señora teaches many life lessons to all of her students that help students learn more and excel through life. Reese stated, "Mrs. Wilcox has been a great influence for me. She taught me to be positive even when it's hard. […] It'll be different without her because she's always positive and has a good attitude and we need that in our school."
Empathy is a type of skill everyone needs in life. Some of the greatest memories anyone can have is when they feel like they are understood. Señora Wilcox shows she cares by not only her words but actions as well. One of those times was when Mrs. Wilcox helped a student in need. Madison Reinert was one of the students who needed saving, "One morning I had snapped my sweater on one of her desks and I asked Señora if there was anything she could do to fix it. She pulled out a little sewing kit and fixed my sweater and it looked brand new!" This shows another reason why she has been a great asset to Larned High School. It's not every day you meet a caring teacher who's not only great at teaching but is always there to help you whenever you need it. 
Since Señora Wilcox has worked here for a long time, she has impacted many people throughout all of those 38 years. She is truly going to be missed by all students and staff. Another student of Señora's is Shannon Zink, who has had Señora for many years during highschool.  She has had Señora all the way to Spanish 3 and is Señora's secretary for International Club. Shannon stated, "She is a really good teacher and a good asset that the school had. I think that the future students are definitely missing out on not having her as a teacher". Continued by another one of her students, Madeline Hamrick, "The thing I'll miss the most about Señora will probably be how fun she makes the classes, like if there is something we have a question on she will answer it. You can tell she wants us to continue on with Spanish and she is just very nice and funny. She is almost always happy and she can be a bright face that I can talk to. Her presence always makes the room brighter."
This article has been dedicated to Señora Wilcox, but this paragraph is to you, Mrs. Wilcox. We LHS students and staff want to thank you for everything you've done for our school, and all of the students, and for lighting up everyone's day with how kind you are. You have made a huge positive impact ever since you started teaching at LHS. You have proven that everyone has a place here, by caring and helping everyone who needs it. You always open your arms to anyone and everyone. Your kindness has made everyone look up to you as an idol in our eyes. Thank you for everything you have done for our school, students, and staff. We all hope for you to have a joyous retirement and best wishes to you and your future endeavors. 
View Comments(1)
Your donation will support the student journalists of Larned High School. Your contribution will allow us to purchase equipment and cover our annual website hosting costs.