Fall sports are back in action
Football
This fall the Larned Football team is back in action. This season, ten returning players are our seniors. These seniors are: Carter Atteberry, Kaden Auble, Qwintin Camarillo, Jacob Colglazier, Matthew Figger, Cade Parr, Riley Pontius, Nick Ratzlaff, Eian Sanders, and Jayden Smith. "I think compared to last year we have improved a lot and I'm excited to see us in action" commented Senior Jayden Smith. In total, for the football team, there are forty-seven players going out, with a tremendous amount of new faces to the high school team.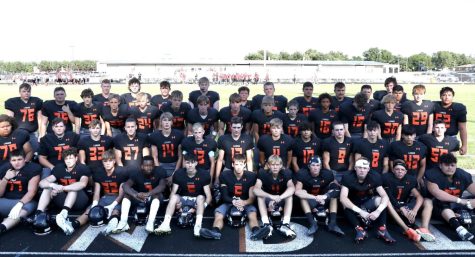 This year, our boys' football team will be moving down to 2A. "I think it's going to be fun to see our kids compete at that level because we will go from being one of the smallest schools in 3A, to one of the largest in 2A," mentioned Athletic Director Roni Ettleman. The boys will kick off the first ever Larned Jamboree on Friday, August 26, against Plainville and Ellsworth.
Volleyball
This year, the Lady Indians are spiking back this 2022 season. This year, the girls volleyball team has a whole new coaching staff consisting of Mackenzie Harper (Head Coach), Amy Simmons (Assistant Coach), and Luke Steinlage (Assistant Coach).
"I am thrilled to be the new Head Volleyball Coach for Larned High School. As an LHS graduate, I care about this school and the community. I believe I have a fresh attitude and skill set to bring to the volleyball program and I look forward to developing a consistent squad. My goals for this season are to play every game with grit and for my athletes to feel successful and notice their progress. With the first couple weeks of practice under our belt, our team is ready to get started and tread new waters this season," quoted Head Coach Kenzie Harper.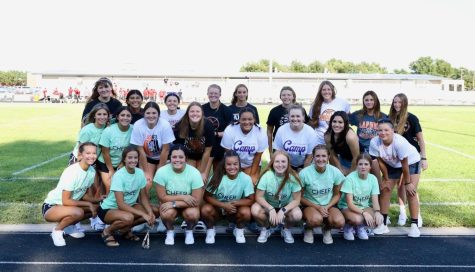 This season the Lady Indians have twenty-four girls, three of which are seniors, going out for volleyball. The seniors are Liz Herrera, Jayme Hagerman, and Kiana Meyer. All three of these players have stuck through all four years of high school volleyball. "We really improved as the years went through as a team as well as individuals" responded Liz Herrera.  Varsity will start their season off on Saturday, August 27, at the Pratt tournament starting at 9am.
Girls Golf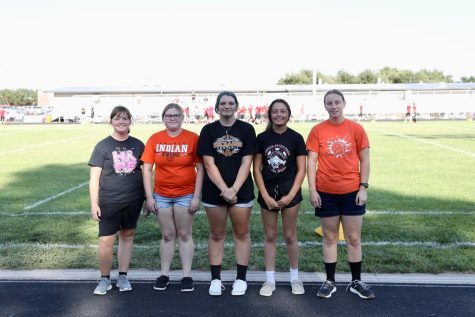 This years' girls golf team is swinging back into this 2022 season. Our lady golfers are more than ready to start off the season with a bang. The Lady Indian golf team consists of seniors: Alaura Crockett and Maddie McMurphy, junior: Jocelyn Clawson, sophomores: Erin Tims and Autumn Holopirek, and freshman: Temperance Donecker. Daniel Collins oversees all of them as the Head Coach. "Through my four years of playing golf, it has taught me patience and strength through a good mentality," states Crockett. They've been working hard in the heat and they are ready to compete. The girls will compete at Nickerson on August 30th.
Girls Tennis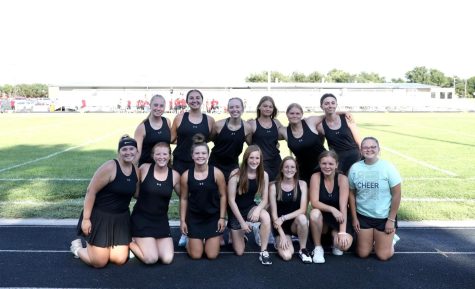 Girls tennis is coming back ready to compete this year. They aren't letting the heat stop them from working hard and getting better each practice. This season there are three seniors: Sarah Manry, Ella McNett, and Kimberly Pfortmiller. Juniors: Arianna Hemken, Breanna Hemken, Abby Holt, and Reese Watkins. Sophomores: Isabella Bailey, Madeline Hamrick, and Liliana Mckenna. Freshman: Maggie Haas, Cassie Manry, Leah Pinkston, and Keirstin Pinkston. "Through all the years, I've learned that it has taught me communication and mental strength," commented Sarah Manry. The Junior Varsity team will compete on August 25th, 2022, and the Varsity tennis team will begin their season on September 1, 2022. 
Cross Country
The cross country team is running back into the season with new faces and a new coach. Larned High School's previous coach, Gary Wagoner, retired from teaching and from coaching. Stepping up to take the position was Daniel Drimmel. Mr. Drimmel is the biology and physical science teacher here at LHS. This year not only is the new coach different, but there are no seniors, so it's a new culture for those who are returning and having Mr. Drimmel as coach. Juniors: James Kingsbury (Manager) and Maverick Munden. Sophomores: Landon Haney, Ivy Hope, Teagan Walker, and David Lumpkins. Freshman: Caleb McDonald, Emma Corman, and Skyline Pelham. One of their team goals is to show improvement by the end season.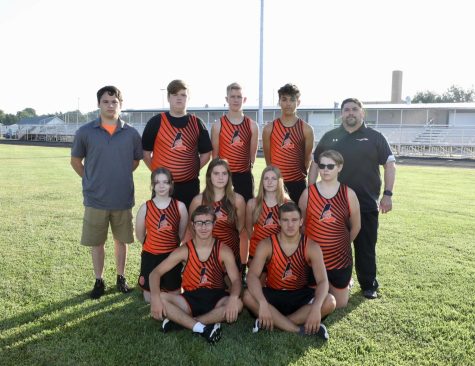 "As a team I would like to see that we improve as we get deeper into the season, and I'm excited to see the changes that will happen as the season progresses," says Hope. The teams first meet is on September 3rd, 2022, at TMP.
Photos from Janet Fleske
Leave a Comment
Your donation will support the student journalists of Larned High School. Your contribution will allow us to purchase equipment and cover our annual website hosting costs.