New year, new faces
A taste of the new staff at LHS in the 2022-2023 school year
Larned High School has been graced with lots of new faces in our staff at the beginning of the 2022-2023 school year. After losing some teachers, LHS hired and promoted people to take their place. These new staff have done fantastic things since they have started here this year. Some of the staff have even turned their programs around. All of us at Larned High School owe a lot of thanks to these new staff members. 
The first new staff member is Mr. Apley. He is the new welding instructor at Larned High School. This is his first year at USD 495. When the interviewer asked him about how he's enjoying his position at LHS, he replied, "I am enjoying it very much, it's been interesting and a lot of learning on my part but overall I really enjoy it." Later on in the interview, he brought up how he wants to get new equipment and bring new things to the school. LHS can't wait to see what he does with the welding program at Larned High School. 
 Next, this teacher may be someone many already know. Ms. Haney, our new Family and Consumer Science teacher, was a staff member before, but this year she took over as our FACS teacher and FCCLA sponsor. It really seems like she loves her new position after she told us, "The best part of my job here at LHS is the students. I love being surrounded by so many  different personalities. They all have something amazing to offer and always keep me on my toes." Students are excited to see what she does differently than the previous FACs teacher, who already set the bar pretty high. 
Mrs. Wasinger is taking on a new role as a Career and College Counselor. A lot of students that have been in LHS for multiple years probably know her. She was the former FACs teacher and FCCLA sponsor. She helps kids figure out what they want to do after high school. In our interview, she brought up how she is the first person to have her position at LHS. She states, "I really like it. I think it's really good that students will have someone else to help them with all of their post-secondary needs. My favorite part about being an educator is helping students help themselves, helping them find what they are excited about, and what they want to do after they graduate." If this is anything like her last position, she will find a way to raise the bar well above what is asked of her. LHS is so excited to have her helping students in this new position at LHS.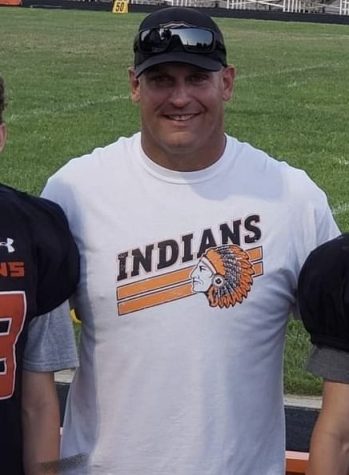 Last but not least, the final new staff member is our new substitute teacher and assistant football coach, Mr. Rasmaussen. When interviewed, he really seemed to enjoy what he does. He is a very straight-forward guy who doesn't sugarcoat anything. He told us about how he loves working here and getting to know the students. He also discussed how there's been nothing really difficult about his job. Because he just started, he hasn't had any students misbehave in his classes yet. LHS are very excited to have a new substitute teacher this year. 
Larned is very blessed to have all these new staff members and teachers. Every one of our teachers and staff members are a very crucial part of our teaching system.  They make the school run a lot more smoothly. LHS can't wait to see how they all raise the bar in their new positions, and LHS wish them all the best! 
Leave a Comment
Your donation will support the student journalists of Larned High School. Your contribution will allow us to purchase equipment and cover our annual website hosting costs.