Larned newspaper back from the dead
Larned High School hasn't had a newspaper in over 30 years!
 At the start of this new school year, the Larned High School newspaper class is proud to announce the generation of a new school newspaper. The new school newspaper will be titled "The Tribe Times." The last time LHS featured a school newspaper, bomber jackets were still in style and people watched movies on VCR players! That was over 30 years ago, and this new class is bringing the school newspaper back into the twenty-first century. The Tribe Times mission is to get more information about the school out to the public and make students' voices heard. With all the technology we have today, The Tribe Times has been able to make Facebook and Instagram profiles as well as a website to make it easy for people to read about current school events. Due to the availability of the information, participation and support have drastically increased.           
Mr. Butler asserts that "The newspaper will be a great benefit because one of the things this school lacks is having a more open communication." The class hopes to bring more attention to the after-school clubs by posting all events on their social media accounts. These accounts include both their Instagram and Facebook accounts labeled "The Tribe Times."
FCCLA president Abby Holt believes that "The newspaper will be a chance to explain what you do in your club. . . . For FCCLA we work the candlelight tour and it could be a better way to get that out to the public." 
With all the changes that are being made for this new class, Mr. Keith has had a lot of work to do, so what made him want to start up the newspaper in the first place? When we asked Mr. Keith about it he reminisced that, 
"When I went to school in Larned, we never had a school newspaper, and I always thought it would be a fun course to offer. At the beginning of this year, Mrs. Smith told me that there was a potential opening for a new elective, so I jumped at the chance to implement a journalism course." 
When asked how the newspaper was going, Keith responded that, "There are always a lot of kinks when you get this sort of thing started. We're doing a lot of organizational work right now, but I feel like we're off to a good start."
However, this isn't the first time Mr. Keith has helped run a school newspaper. He stated, "I have helped run a school newspaper twice before; once at Bennington High School and once at Southeast Saline." It is great that Mr. Keith has good experience with this type of class. 
So what are some of the things students would like to see in the newspaper? STUCO president Ella McNett said that she would like to see "Sports results from all sports, such as volleyball, football, golf, cross country, and tennis." She also mentioned that she would like to see all sports and clubs recognized in the newspaper, "Not just the most popular ones or the ones that won. Even if they lost it would be cool to see how they did."
The Tribe Times hopes to highlight and support all clubs and sports equally in order to get information out about all of the things these clubs do. There are so many things these clubs do that many people never hear about, because no one talks about them. The Larned High School's Tribe Times Newspaper hopes to fix this problem by writing articles about all kinds of sports, clubs, news, and opinions in the school, and are excited to see what all they can accomplish this year as they give the newspaper new life. 
Leave a Comment
Your donation will support the student journalists of Larned High School. Your contribution will allow us to purchase equipment and cover our annual website hosting costs.
About the Contributor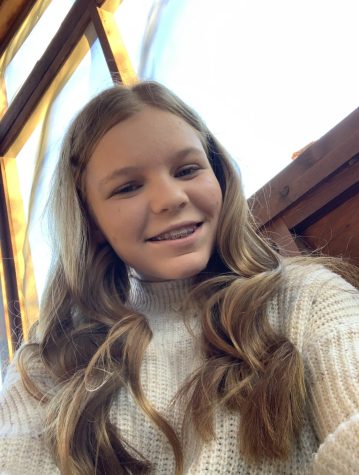 Cassie Manry, Editor
Cassie Manry is a freshman at Larned High School. She serves as an editor for the Larned Highschool Newspaper team. Cassie is also involved in FCA, FCCLA,...