Shut up, freshman
The process of many freshmen trying to roll with the changes
The jump between the eighth grade and freshman year is a big one. It takes a while to get used to that change and many students have trouble adjusting. Many freshmen are nervous; others are excited. Some fear being jeered at and made fun of by upperclassmen. Although the phrase, "Shut up, freshman," is a common phrase to hear walking down the halls of Larned High School, many freshmen are having a good school year.
However, freshmen this year don't have to adjust as much as usual. Recently, the Larned School Board of Education made the decision to change the high school scheduling. In years past, we had a four block schedule. As of this year we have an eight period day, which is identical to the middle school schedule. 
Freshman David Colglazier, said that going into this school year he felt ". . . a little bit nervous because it's all new. it is just a lot of kids I don't know." Colglazier also mentioned, "I like the freedom that students enjoy in high school the most."  
When asked what the most significant difference between middle and high school was, freshman Mallorie Ceniceros said, "There's a lot more people in  high school. You're also going to have classes with upperclassmen, but it's still pretty fun." Ceniceros also stated, "I like being able to hang out with kids I haven't been with before. I also like the different people there are to hang out with. It's not just the same people from my grade all the time."
Many of the freshmen are finding that they like being able to choose which classes they are going to take. High school offers a lot more classes than middle school does. However, picking which classes to take can be overwhelming for eighth graders going into high school. Luckily this year LHS hired a Career Counselor to help students make these big choices. Mrs. Wassinger is our Career Counselor, she helps students pick which classes to take to help them achieve their post graduation goals. 
Freshman Leah Pinkston says that, "There's a lot of opportunities and options in high school. There are also more classes to take as well." When asked how she felt about being a freshman Pinkston said, "I wouldn't change a thing." Which is good considering being a freshman is an experience everyone is required to have!
Freshman Tristan Thompson stated, "So far my freshman year has been a good experience." The transition is always the hardest at the beginning. We hope that his good experience in high school continues well into the year. 
In short, many freshmen walk into the halls of Larned High School on that first day and are filled with fear. Insults, slander, and mockery such as "Shut up, Freshman" are things that many freshmen may fear. This year it is a bit easier on freshmen due to the new eight period schedule. We hope that as time goes on, the transition will get easier and easier. This year many freshmen are seeing the bright side of high school, rather than the dark worries of being bullied by upperclassmen. 
Leave a Comment
Your donation will support the student journalists of Larned High School. Your contribution will allow us to purchase equipment and cover our annual website hosting costs.
About the Contributor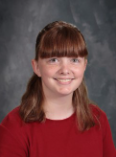 Erin Tims, Writer
Erin Tims is a sophomore at Larned High School. She is a member of LHS STUCO, Art Club, International Club, Book Club, and she is on the LHS Golf team.