The inner workings of Graduation
Donning the robe . . . walking across the stage . . . receiving your diploma . . . These are things everyone remembers about graduation, but what goes into graduation that not everyone knows about? From how fast to walk onto the stage to getting your best baby pictures, Graduation is a big production and there are so many components to it. The ceremony is just the tip of the iceberg. 
The Student Council President and the Class President give a long prepared speech. The students that give speeches are required to write their own speeches, and each student practices their speech multiple times to be sure they are perfect when they are presented. Talking in front of large crowds can be stressful, but the students practice their speeches enough that they'll be perfect when the time comes. Mr. Butler reads through these speeches to make sure they are up to standard for graduation, and then the students present them at Graduation. 
Mr. Butler is the senior class sponsor, so he is in charge of making sure all of the graduates show up on time, look presentable, and know when and where to walk. He gives the seniors tips on how to de-wrinkle their robes, what kind of shoes to wear, and how formal to dress. Mr. Butler is in charge of running the seniors through their rehearsal graduation before the real thing, that way students know what to expect so everything can be perfect on the big day. 
The students have many responsibilities for graduation, but what about their parents? In addition to planning the graduation parties, parents are responsible for finding embarrassing baby photos of the graduates to be presented at graduation. These photos are put into a slideshow and labeled with the name of the student so the entire crowd knows who is in the picture. 
Baby photos aren't the only pictures important to graduation though. Everyone wants tons of pictures taken at graduation, so Mrs. Janet Fleske is a very busy bee that Saturday afternoon. Everyone is very thankful to have a professional photographer taking pictures for free at graduation. Parents also take many pictures (the more embarrassing the better) to post on Facebook later that day. In addition to taking pictures of their kids, parents, moms especially, have to come up with a very cringy Facebook caption to go with the pictures they will post. This can be very stressful for parents. 
The band also has work to do for graduation. They play while the parents and spectators enter into the gym to find their seats. They then play a long drawn out rendition of pomp and circumstance while the graduates walk in. Everyone that has ever graduated from high school has heard this song. It's as much a tradition as the robes and tassels are. 
Behind the scenes of the pretty picture of graduation, someone has to set up the chairs and speakers. Mr. Pfortmiller, the head custodian, along with his gang of school janitors set up the gym to host graduation. They have to extend the bleachers, set up the band's chairs, set up the graduates' chairs, and set up the stage walk for the students to receive their diplomas on. Then, they tear down graduation when it is over. 
Overall, the entire graduation can be stressful for everyone. Parents worry about forgetting things, while trying to make everything perfect. Teachers stress about the graduates messing things up. Graduates fret over tripping on their robes and making a scene. In the end, no matter if you trip on your robe, forget when to stand up, or you don't get good pictures, memories are made and the graduates still leave with a diploma in their hands. 
Leave a Comment
Your donation will support the student journalists of Larned High School. Your contribution will allow us to purchase equipment and cover our annual website hosting costs.
About the Contributor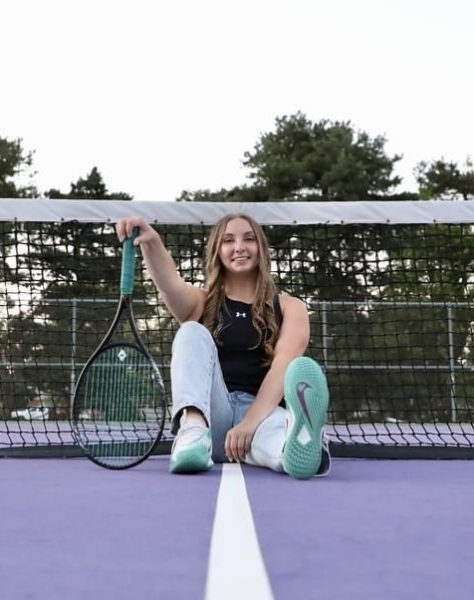 Arianna Hemken
Arianna Hemken is a junior at Larned High School. Her favorite articles to write are opinion pieces, and she loves adding statistical numbers to her pieces...