Why do teachers put up with us?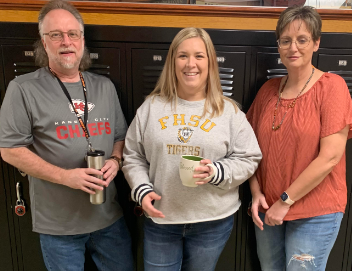 The high school students of today are the light of tomorrow, and some of their biggest role models are the teachers they see on a weekly basis. Taking on this role is a big weight to carry, and some people may claim that there is no bright side to it; so why do teachers do what they do? To answer this question, The Tribe Times interviewed some of the most influential teachers here at Larned High School. 
Larned mathematics teacher Ross Butler has been teaching at Larned high school for over 30 years. When asked why he started teaching, he responded, "We all had a teacher in our background that really inspired us on a level that makes you think, 'That is something I would like to be able to do.'" He went on to say, "One of them was when I was in high school, and I was going through some difficult times at home. He took interest in me as a person, and he managed to keep me grounded throughout what I was going through. I thought, if they could do this for me, that is something I would like to do for others." His experience and kindness has helped many of his own students over the years; he really has made a big impact on so many students' lives throughout his teaching career. 
LHS chemistry, anatomy and physiology, and physics teacher Jennifer Fitzpatrick is similar to Mr. Butler in that she recognized a call to teach early in her life. Fitzpatrick stated that, "Ever since I was little, that's what I wanted to do." She continued on to say, "I do what I do because of the kids. It isn't about the content I'm teaching; it isn't about the money. It really is all about the kids. I keep doing what I do for them." She has proved this numerous times throughout her career since she's taught science, geography and ___. 
However, business teacher Brooke Stahlecker didn't start her career as a teacher. She told us, "I was working as a general manager for a travel nursing agency, and I was seeing a lot of things in the workforce that weren't up to the expectations that we were needing. I wanted to be a part of that change and help educate our youth and prepare them for life after high school." She also said, "When I was little, I always wanted to be a teacher, but I knew there wasn't any money in it. In high school I made the decision to chase the money, but after you chase the money and you have a family, your priorities change. This job allowed me to spend more time with my family."
Out of all of the interview questions that were given to the teachers, the most thought provoking was: "Why do you as teachers continue to teach?" Mr. Butler's reply was, "My whole life has been in front of a classroom. It is what I know, and I'm comfortable with this. It doesn't really make sense for me personally to say, 'Okay I'm ready to retire, move on and do something else,' when I still get excited about teaching math."  He also went on to tell us, "Some of the classes I'm teaching are classes that I have been teaching for over twenty-two years, and I'm still not bored of it because I realized that even though I'm going through it for the millionth time for my students, it's the first time they're ever learning this."
Mrs Stahlecker stated that, "The kids are what makes me want to continue doing this. I can see that my interactions make a difference and that the content comes second. Maybe that's the wrong order, but I believe that you can't learn unless you have a good solid foundation, the kids enjoy your class, they enjoy you as a person, or you have a personal relationship with them. After that's done, then they can start learning."
The final teacher interviewed, Mrs Fitzpatrick, reflected on her career as a teacher and why she carries on with the profession, and she simply stated, "It's definitely the kids. I wouldn't do what I do if it wasn't for them." 
These Larned high school teachers help students get through the dog days of the school year. Despite the difficulties that come along with teaching, they still have smiles on their faces at the end of their days. LHS is grateful to have them because, without them, the future would look pretty bleak for students. 
Leave a Comment
Your donation will support the student journalists of Larned High School. Your contribution will allow us to purchase equipment and cover our annual website hosting costs.
About the Contributor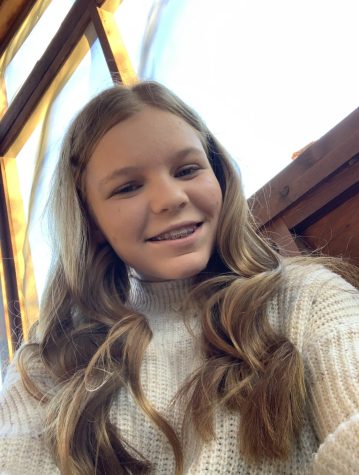 Cassie Manry, Editor
Cassie Manry is a freshman at Larned High School. She serves as an editor for the Larned Highschool Newspaper team. Cassie is also involved in FCA, FCCLA,...