Crowns and touchdowns
One of the biggest spirit spreaders during the fall here at Larned High School is homecoming. Homecoming has been a tradition for years and has always been the second home football game of the season. It gives all students from grades K-12 an opportunity to participate in school activities and be involved with their school to spread school spirit. A major part of homecoming week is spirit week. The high school puts together a list of spirit days and kids can dress up each day to participate. Monday's spirit day was "Soccer Moms Versus Cookout Dads"; Tuesday was "Adam Sandler Day"; Wednesday was "Country Versus Country Club"; Thursday was "Color Wars," and Friday was "Orange and Black." Each class, ninth through twelfth grade, had a color it had to wear to support its class. The colors were assigned as follows: seniors: red, juniors: blue, sophomores: green, and freshmen: pink. Many students went all out for the week, and it really spread spirit throughout the school. By the end of the week, everyone was glad it was Friday, game day. 
On Friday, Larned has its own town parade. Students rode floats, which represent each of our fall sports,  down Broadway to throw candy at the elementary schoolers. After each of the floats went through, everyone participating in the parade, and those who watched, gathered at the courthouse for a small pep rally. The band played while the cheerleaders danced, and after their performance, they did a few chants to get the crowd involved. As soon as the pep rally was over, everyone cleared out to get ready for the big game against Nickerson.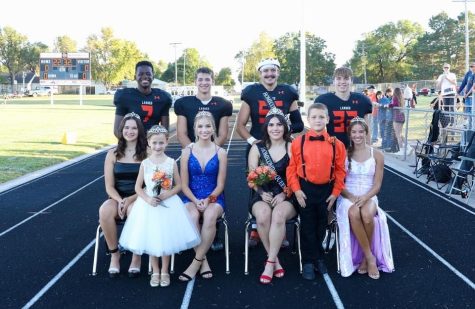 It was homecoming night, so everyone was ready to find out who the king and queen were. Our royalty candidates consisted of: Carter Atteberry, Kaden Auble, Cade Parr, Jayden Smith, Cassidy Ary, Jaci Converse, Jayme Hagerman, and Elizabeth Herrera. We were beyond excited to find out who our winners were. Finally the time came and it was time to crown our king and queen. Carter Atteberry and Elizabeth Herrera were announced as the winners. They were presented with the royalty crowns by Lainey Fleske and Carter Mick.  After our king and queen were crowned, it was time for the game. 
The Indians took on the Nickerson Panthers. Our tribe started off strong with Carson Shaver scoring a touchdown on the second play of the game! Shaver had quite the night out on the field, especially considering that he's only sophomore! He also brought in another touchdown and a two-point-conversion for the Indians later in the game. Luke Fischer is another player who was a big help to the Indians. Fischer also had two touchdowns. Fischer and Shaver led the team in points. This later led them to a 28-20 victory. To finish off the night, LHS held their homecoming dance. It was a good way to bring everyone together and celebrate the king and queen, but also to celebrate our football boys on their homecoming victory. 
Leave a Comment
Your donation will support the student journalists of Larned High School. Your contribution will allow us to purchase equipment and cover our annual website hosting costs.